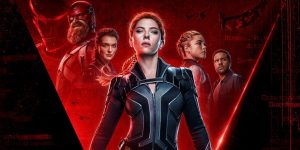 It seems like it's been forever since I've been to see a Marvel movie in the theaters! It also seems like, in the case of 'Black Widow', that we've been literally waiting forever. Between the release date being pushed back due to the pandemic coupled with the fact that Natasha should have gotten a solo movie long before Marvel decided to give Scarlett Johansson's character her own stand-alone film, this one has been a loooong time coming. And it only proves the saying – "Some things are worth the wait." Never was this saying more true than when it comes to the highly anticipated 'Black Widow' movie starring the aforementioned Scarlet Johansson along with an all-star cast including Florence Pugh, David Harbour, Rachel Weisz, O-T Fagbenle and William Hurt.
The writers do a great job of giving us an action-packed and drama driven comic book film that is a perfect marriage between a big-budget episode of 'The Americans' and a James Bond film utilizing all the best parts of both worlds while nestling this film snugly in the time line between the events of 'Captain America: Civil War' and 'Avengers: Infinity War'. The more one has seen of the Marvel Cinematic Universe and it's related TV Shows will be helpful and reward the viewer, but I wouldn't deem it a requirement for one to enjoy the movie as it stands (although seeing the 3rd Captain America film may be somewhat helpful before jumping in to this one). As with 90% of the comic book movies released under the Marvel umbrella since 2008's 'Iron Man', liberties are taken with the story and some of the characters so people strictly adhering to "how it was done in the comics" may be put off by a few points in 'Black Widow', but there is nothing that was a make-or-break issue for me, personally, in this, the 24th film in Marvel's Cinematic Universe.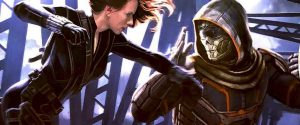 In order to keep the review as free of spoilers as possible, I won't even go into detail about the plot other than to say Black Widow is on her own in this adventure which put it, for me, on par with the 2nd Captain America film in that exciting spy-thriller vein, but even more so! There are touches of Cold War era plot devices here and bits espionage intrigue there while maintaining a consistent tone throughout as Natasha navigates her way through uncharted territory as a fugitive from justice (again, following the events of 'Civil War') while trying to maintain and, at times, even defend her newfound role of hero. Luckily, Scarlett Johansson's acting chops are more than up to the task as we see probably the most range we've been treated to thus far in the franchise from this very talented actor. David Harbour appears to be having a great deal of fun as Red Guardian while Florence Pugh plays her part to perfection as well. (Again… I'd say more, but I am doing everything I can to keep this review completely spoiler free.) The film will, no doubt, be a great feather in the cap of director Cate Shortland who has already proven that she is adept at managing and escalating tension & drama as demonstrated by her film 'Berlin Syndrome'. Now that movie theaters are opening back up, 'Black Widow' is exactly the kind of movie that deserves to and needs to be seen on the big screen! All-in-all, I'd rate 'Black Widow' a 9 out of 10 as it has nudged its way into my Top 5 Favorite Marvel Movies! Assemble YOUR team and get out to see this one when it hits theaters on July 9th! Excelsior!!