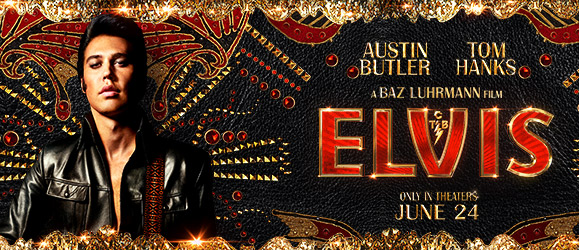 'Elvis' (2022)
Bazmark Films / Warner Bros.
Directed by: Baz Luhrmann
Written by: Baz Luhrmann, Sam Bromell, Craig Pearce & Jeremy Doner
Starring: Tom Hanks, Austin Butler, Olivia DeJonge, Richard Roxburgh, Helen Thompson, Kelvin Harrison, Jr., David Wenham & Kodi Smit-McPhee.
Who doesn't know Elvis Presley? Even now, 45 years after his death, the name "Elvis" is still synonymous with rock & roll to several generations of people. So, with other music biopics making the rounds in recent years (I.E. 'Rocketman', 'Bohemian Rhapsody'), it seems only natural to do a film focused on "The King of Rock 'n' Roll" himself (especially since the last one was done in 1979 by John Carpenter starring Kurt Russell). Baz Luhrmann takes the helm on this new look at Presley's life with a bit more focus on his manager, Colonel Tom Parker (played by Tom Hanks). Indeed, the film starts out with  Parker being rushed to a Las Vegas hospital presumably moments before his death in 1997. From here, his voice over assures us that he is not the villain that he is often made out to be and, without him, the world would never have known who Elvis Presley was. Flashing back to the early 1950's where Col. Parker is managing singer Hank Snow (played by David Wenham) and a variety of other acts traveling from town to town in the South when Snow's son Jimmie (played by Kodi Smi-McPhee) starts playing a record of a new song by a brand new singer named Elvis Presley. Jimmie says that absolutely everyone is listening to it causing the Colonel to see dollar signs. Parker immediately begins pursuing Elvis and convinces him to tour with their group, eventually bumping Hank Snow all together as Elvis' popularity grows. He makes a deal to be Elvis' sole representative and manipulates Elvis' father Vernon Presley (played by Richard Roxburgh) to act as Elvis' business manager in order to placate Elvis' mother Gladys (played by Helen Thomson) who, rightfully, distrusts the Colonel. From there, we move on to several "highlights" from Elvis' early days including his need to tone things down in order to not be canceled from TV appearances such as the notable one on The Steve Allen Show where he was made to wear a white bow tie and tails while singing "Hound Dog" to a similarly attired basset hound. We also get some nice scenes showing Presley's friendship with the iconic B.B. King and his time on Beale Street in Memphis. Other beats are touched upon such as his enrollment in the U.S. Army (at the behest of Colonel Parker as a means of trying to "clean up" Elvis' image), his meeting of Priscilla Beaulieu (who he would eventually marry), the death of his mother, his reactions to the assassinations of Martin Luther King, Jr. and Robert Kennedy, his 1968 Comeback Special and, finally, his residency at the brand-new International Hotel in Vegas.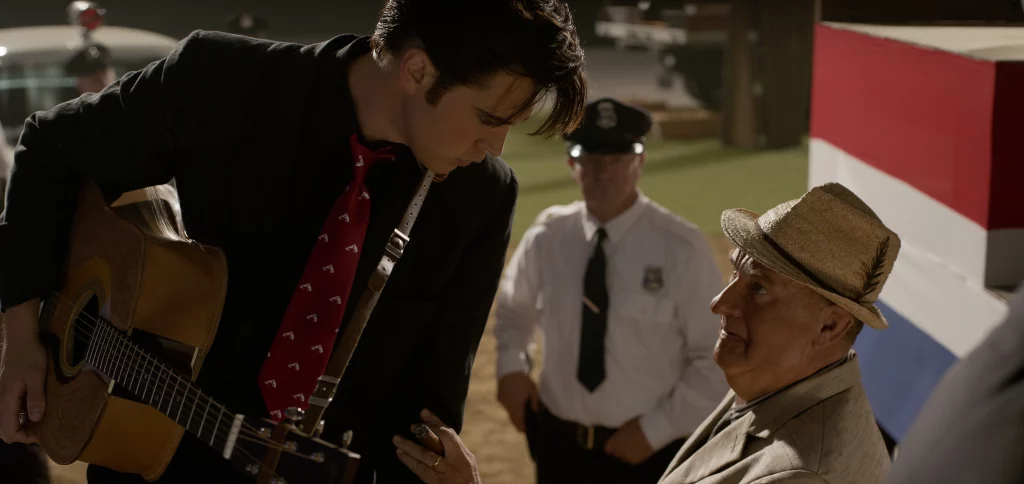 Overall, the movie is every bit the visual stunner that you would expect from a Baz Luhrmann film. Between the color-ripe palate and the often careening, dizzying cut scenes and transitions, 'Elvis' has all the earmarks of a Luhrmann production. As can be the case with any historical fiction, especially one spanning the life and times of someone such as Elvis Presley, certain details need to be cut down in order for the film not to become too long and too large. For me, that is the number one issue with this movie. Clocking in at 2hr & 39min, the film begins to drag in the final 1/3 as it focuses heavily on the final part of Elvis' life and career from 1968 to 1974. (For comparison, Elton John's biopic 'Rocketman' was 2hr & 1min and Freddie Mercury's biopic 'Bohemian Rhapsody' was 2hr & 14min and both of these pictures were a bit more even in how they covered the respective singers' lives, IMO.) As an example, I would have liked to have seen a bit more of Elvis' Hollywood career doing his movie/musicals rather than having those 8 years being relegated to a quick 2 minute vignette during the course of the film. There are times when it seemed like the movie got in its own way and couldn't quite decide what type of story it wanted to tell. It begins being told from Colonel Parker's point of view, but then glides into what appears to be Elvis' own memories of things and events when Col. Parker was no where to be seen. (Luhrmann's film 'Australia' suffers from this same problem where 1/2 the movie seemed like it wanted to be a Western and the other 1/2 pulled towards being a War film.) Nevertheless, the frenetic energy which Luhrmann is known for acts as a sort of glue holding the film together as best it can. The performances are great from everyone involved. Another transformative role for Tom Hanks as Colonel Tom Parker as he insinuates his way into Elvis' life and demonstrates just how insidious this evil impresario really was. Austin Butler gives a stand-out performance as he manages to capture Elvis perfectly throughout the various phases of the singer's life with great aplomb whether he is playing the shy kid from Tupelo, MS just trying to find his way in the business or the self-assured performer singing to throngs of fans at sold out shows and everything in between.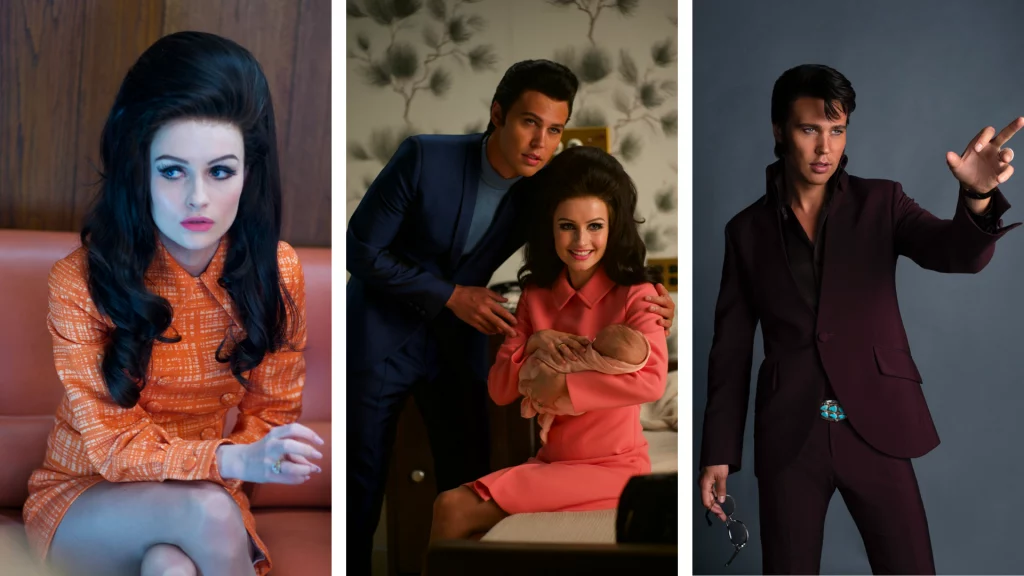 The music is mostly Elvis but the movie also features some covers, remixes and new songs by modern artists such as Doja Cat's "Vegas" & "The King & I" from Eminem ft. CeeLo Green. Oddly, as much of an Elvis fan as I am, I found the soundscape in this film to be less… charming (I can't think of a better word at this moment) than the music from 'Moulin Rouge'. This was particularly disappointing as I went in with high expectations for the musical arrangement based on previous Luhrmann offerings. In summation, while 'Elvis' offers some stunning visuals and award-worthy performances, I don't feel that the movie broke much new ground and it felt rather lackluster overall with a much longer runtime than needed for the movie that we ended up receiving. Towards the film's ending, I felt like it was the audience who was *ahem* caught in a trap and can't walk out. Buoyed by the solid performances and the film's visuals, 'Elvis' only gets a 5 out of 10 for me. Die-hard Elvis fans will definitely want to see this one in the theater when it opens nationwide on 6/24 and tickets are on sale now!