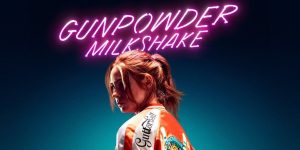 Gunpowder Milkshake
Directed by: Navot Papushado
Written by: Navot Papushado & Ehud Lavski
Starring: Karen Gillan, Lena Headey, Angela Bassett, Michelle Yeoh, Carla Gugino, Chloe Coleman & Paul Giamatti
Each year, there are movies that come out that end up taking me by surprise and that ultimately end up making my personal Top 5 Favorite Movies list. In 2017, it was 'Atomic Blonde'. 2018 provided 'Bad Times At The El Royale' and 2019 gave me 'Ready Or Not'. I can safely say that 2021 has just added an initially unsuspecting entry to what will be this year's Top 5 Favorite Movies list with 'Gunpowder Milkshake'. And while it is nowhere near a "perfect movie" it is certainly inventive and devastatingly fun. From the wardrobe to the music to the fight choreography, the movie is a feast for your senses! The film follows Sam (Karen Gillan), a cold-blooded gun for hire who, after being abandoned by her mom (Lena Headey) at a young age, has followed in her mother's footsteps and works for the organization that took her in as a child. After a hit gone wrong, Sam ends up on the run from her own firm while trying to help save the daughter of her last victim with the help of her own mother and a few old friends.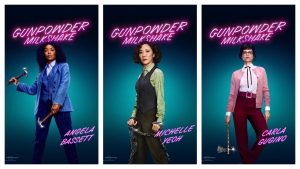 This movie is violent. Like… Quentin Tarantino level violent. It's also highly stylized and very, very fun. The story is solid but one of my complaints is that it feels like an ending is coming a few times and then the movie continues, which somehow made the run time feel longer than it really is (only 1 hr and 54 mins, actually). The dialogue runs the range of odd and clunky to smart and sharp. This coupled with the inconsistent overall pacing makes the film feel less smooth than it could have otherwise been. The fight scenes, however, are a sight to behold. From the bowling alley brawl to the doctor's office dustup, you will find few films that engage in such blatant and over-the-top violence with such gregarious abandon as this one. I found myself alternating between wincing in agony to what I was witnessing to laughing out loud at how brilliant and fun these battles were. Coupling the choreography of these fights to Frank Ilfman's pitch perfect score and you've got a film that you'll end up going back to again and again just to watch the fight scenes.
While the film won't be hailed by most as a cinematic triumph or be nominated for Movie of The Year by an fancy organization or publication, I think most people will find it highly enjoyable and something that they'll be recommending to their friends. That's how I found it to be; which is why I'm telling you to check it out on Netflix. Think 'The Professional' meets 'Kill Bill' with a touch of 'John Wick' thrown into the mix. The cast is delightful and I think that Chloe Coleman (who plays the cub to Sam's lone wolf) will continue to become an actor to watch in the coming years. On a scale of 1 to 10, I give 'Gunpowder Milkshake' a solid 7 for it's sheer abandon and enjoyability. Add this one to your Netflix queue now!