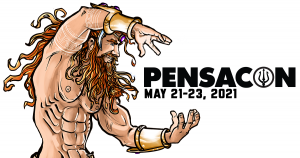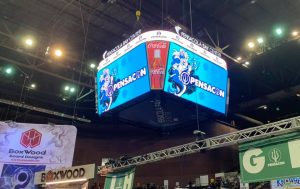 Anyone who has listened to my radio show over the past year knows that one of the things I sorely missed during 2020 was comic cons. Hobnobbing with fellow geeks, meeting creators, interviewing celebrities, checking out the vendors, etc. It's an entire experience that I love whole-heartedly. So when I found out that Pensacon (a convention I've not previously attended) was going forward with a new date of May 21 – 23 this year, I immediately applied for a press pass with the hopes of covering my first comic con in over a year! Luckily, they granted me one and I booked my flight and hotel and set out for just Saturday. A lot to take in over the span of just a 24 hour window, but I was determined to make it work. And work it did.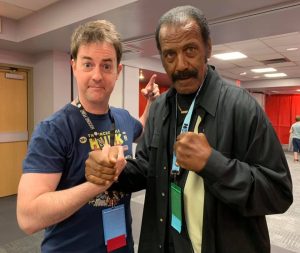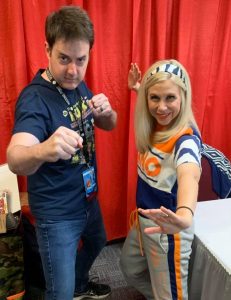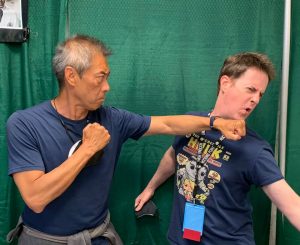 One of the things that impressed me most about Pensacon initially was their wide variety of guests across various fandoms. From wrestling to anime to classic TV to current film and more, Pensacon truly offered something for everyone. Obviously coming out of a worldwide pandemic, many people were apprehensive and not sure of how things would work. I think Pensacon also did a great job doing what they could to ensure that people felt safe while also not being restrictive on guests and patrons ability to enjoy themselves. Hand sanitizer was in great supply and masks were required in certain areas that were deemed to be more congested. The need to spread things out may have been a factor in my one complaint with the con which was how difficult it seemed to be to navigate the Pensacola Bay Center. I likened it to an episode of 'Locke & Key' where you have to find clues to learn where this guest is and where this panel / event is being held, etc. These stairs could only go up and then you had to go to the next side of the facility to go downstairs and then to the opposite end of the building for this celebrity guest but the photo ops were 1 floor up and you had to take this tunnel to get there, etc. Slightly confusing for a Pensacon novice such as myself, but it is what it is.
The vendors all seemed happy to be there and they all brought a different variety of things for sale to fill that void in any con-goers collection. From Funko POPs to comic books to vintage toys to cosplay items, there was plenty to satisfy even the pickiest shopper. The Artist Alley was they best part (and the easiest to find and navigate) was they were set up around the upper level in a ring looking down on the vendor area. Local artists to famed comic creators were spaced out and all seemed as thrilled to be able to be interacting with fans once again as the fans seemed thrilled to meet these legends such as Tony Isabella, Pat Broderick & Renee Witterstaetter, just to name a few. And then, there's the cosplay! One of the highlights of any con, for me personally, is seeing the wide array of people coming out in their cosplay. It runs the gamut of home made and wonderful to professionally made and awe-inspiring but I'm constantly surprised by the creativity of the comic con community as they gather to celebrate their fandom and show off their love of the various genres. After the mad rush of being up at 4am to catch my flight to Pensacon so that I could get there as soon as it opened, I found myself at the end of the day outside the Pensacola Bay Center where I was greeted by the delightful aroma of various food trucks that were set up in the parking lot where I grabbed a wonderful Greek meal as I sat watching the flood of fans leaving the con and headed back to their homes and hotels. Some, like myself, may have been heading back home in the morning and others, no doubt were just taking this break to recharge, change costumes and hit the convention again for the final day.
Overall, I'd have to say that Pensacon put on one incredible show. It was no doubt difficult to start back up after taking last year off, rebooking guests along with booking new ones and figuring out the logistics of staging everything to make sure they were following proper guidelines as the world slowly begins to poke it's collective head back out after a once-in-a-lifetime pandemic, but they pulled it off exceedingly well. A diverse and fun line-up of guests, artists and creators helped make sure that Pensacon was unforgettable for all who attended and I, for one, certainly hope I get to come back again next year. Be sure to check out my radio show review of Pensacon with special guest David of the Tatooine Sons podcast AND subscribe to my show on Apple Podcasts, YouTube and elsewhere so you don't miss my interview from the con with actor / writer Shannon Kenny-Carbonell. On a scale of 1 to 10, I'd rate Pensacon a solid 7 and would certainly recommend adding it to convention list next year with their dates already announce of February 18 – 20 in 2022. See you then!