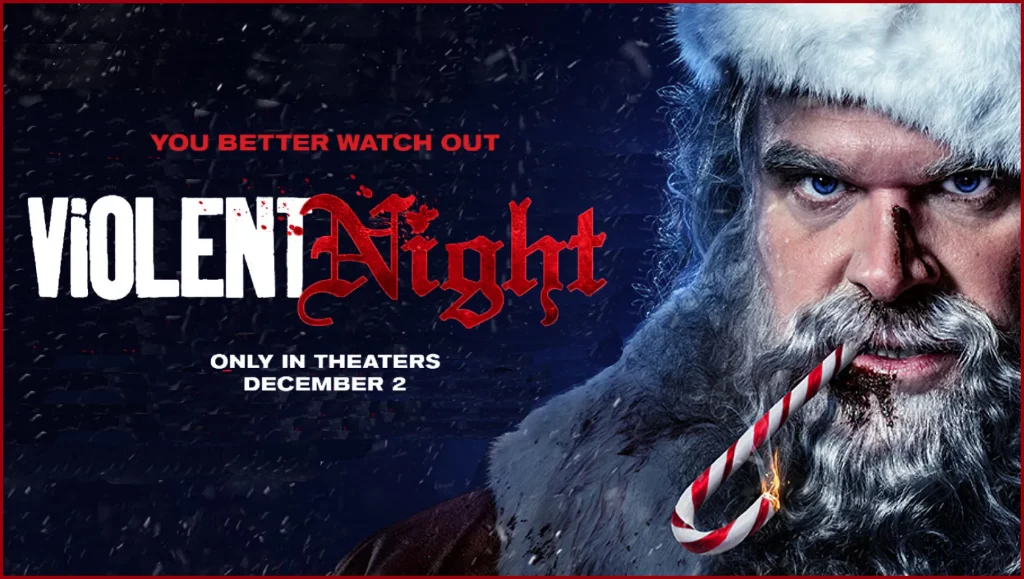 'Violent Night' (2022)
Universal Pictures
Directed by: Tommy Wirkola
Written by: Pat Casey & Josh Miller
Starring: David Harbour, John Leguizamo, Alex Hassell, Alexis Louder, Leah Brady, Edi Patterson, Cam Gigandet & Beverly D'Angelo.
What do you get when you mix 'Miracle on 34th Street' and 'John Wick', add a splash of 'Die-Hard' and just a sprinkle of 'Home Alone'? You get the brand new movie out in theaters this coming Friday – 'Violent Night'. David Harbour plays Santa Claus in this action thriller from the minds of Pat Casey & Josh Miller and the title tells you exactly what you're in for with this movie! A discouraged Santa, feeling forlorn (and a bit drunk) about how greed and consumerism has affected this most wonderful time of year, decides that this may be the last Christmas. While on his route delivering toys on Christmas Eve, he makes a stop at the home (or perhaps I should say "compound") of the uber-wealthy Lightstone family. Estranged couple Jason & Linda have brought their daughter Trudy to spend Christmas with Jason's mother, the Lightstone matriarch Gertrude (played by Beverly D'Angelo). Jason's sister Edi, her son Bert and her new boyfriend Morgan are also in attendance when a group of armed mercenaries led by "Mr. Scrooge" (played by John Leguizamo) show up in order to break into the mansion's vault which is supposed to hold $300,000,000 in ill-gotten government contract money that Gertrude has been holding. Santa, noting the situation and stranded by his panicked reindeer, reluctantly goes up against the mercenaries. Only when he ends up hearing from Trudy, her earnest pleas for help and her fervent belief in Santa and in Christmas itself, does the jolly old elf decide to take down the bad guys… by any means necessary.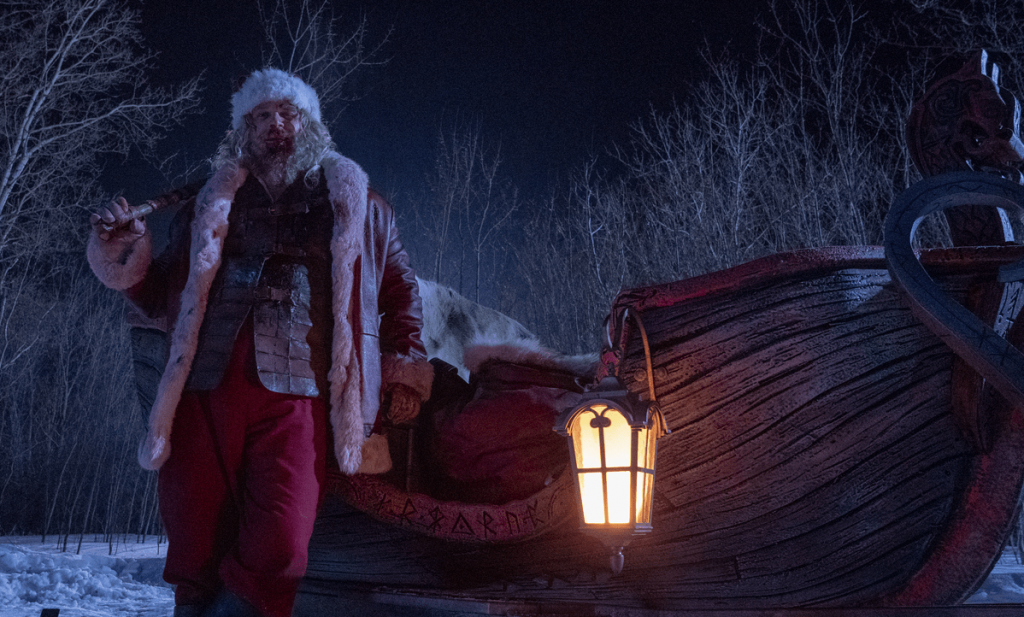 Let me stress again that the movie lives up to its name and is, indeed, violent. It starts out at "John McClane" level but continuously ramps up to points that would make "Michael Myers" blush! The film is inventive and fun and also provides an incredibly unique take on Santa's background that I've never seen before. In fact, one of my gripes with 'Violent Night' is that they provide us with this unique origin for St. Nicholas, but then they quickly gloss over it and never provide any real explanation of how he became the Santa Claus that we all know and how he gained his holiday powers. Not that this point detracted majorly from my enjoyment of the screening, but it was something that I wish would have been explored a bit more. The main problem with the film, as I see it, is the use of the MacGuffin. In this case: "Christmas Magic". It works when needed, but stops working when it seems convenient for a plot detail or story direction. For example, in the beginning when we see Santa making his rounds from house to house, he places his finger beside his nose (yes, just like in the poem) and he then magically turns to glowing energy and goes up the chimney. However, when he hears gunshots and tries to leave the Lightstone compound, his magic goes on the fritz. A few times during the movie, Santa even says "Christmas magic… I'm not even sure how it works." Apparently, neither did the writers. If I had any real problem with the movie, this was it.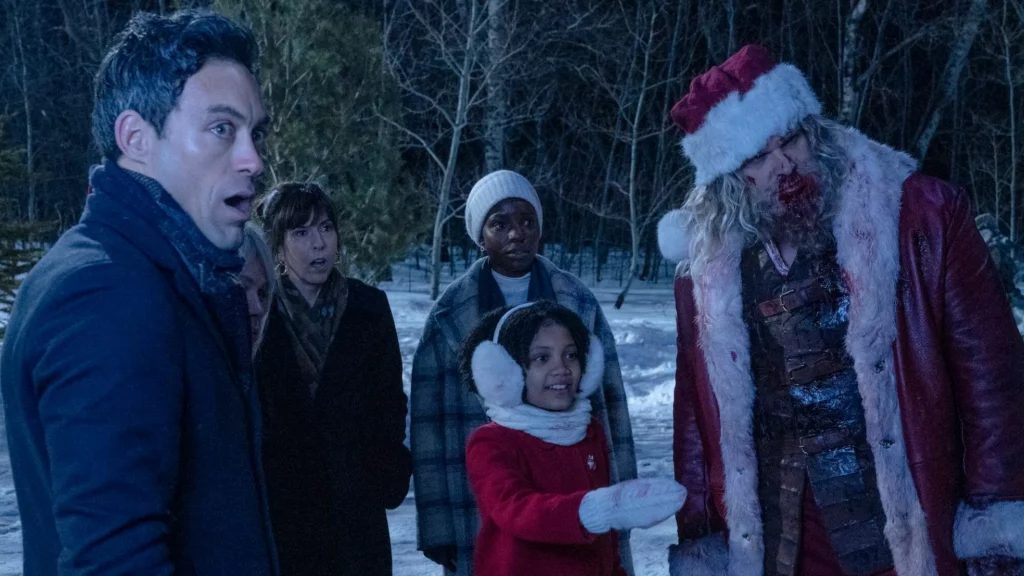 The cast is great and each one plays their part perfectly from Leguizamo's "Mr. Scrooge" being an irredeemable, cutthroat mastermind to Beverly D'Angelo as the no-nonsense, unflinchingly pragmatic powerbroker to Alex Hassell and Alexis Louder as the estranged couple who you are constantly rooting for to make things work and get back together for the sake of their button-cute daughter Trudy (played brilliantly by Leah Brady). And, then there is David Harbour. I think this may be my favorite portrayal of Santa since Ed Asner played him in 'Elf'. From Harbour's roles in 'Black Widow' to 'Stranger Things', no one takes a beating like Harbour's characters and looks good doing it. I don't know how a sequel to this film would be possible, but I sincerely hope that it happens! The fact that this movie can go from making you watch it with your head partially turned away from the screen to avoid seeing the intense violence in one moment, to making your heart grow 3 sizes with the tender, sweet & loving moments the next is quite the feat. Kudos to director Tommy Wirkola for the rollercoaster ride! This is definitely NOT a holiday movie that you'll want to bring the kids to, but it is certainly one heck of a ride to go on if you're looking for something different to watch this holiday season. Great cast, fun premise and a whole lot of people being removed from the Naughty List… permanently! On a scale of 1 to 10, I'd give 'Violent Night' a solid 7. Be sure to take a break from the grind of Christmas shopping and check it out at a theater near you!